When it comes to advanced surveillance technology, the HIKVISION DS-2DF8C842IXG-ELW 8-inch 4K 42X DarkFighter IR Network Speed Dome stands out as a top-of-the-line solution. Packed with cutting-edge features and unrivaled performance, this speed dome camera is the ultimate choice for capturing high-quality images and ensuring comprehensive security coverage.
Equipped with a 1/1.2-inch progressive scan CMOS sensor, the DS-2DF8C842IXG-ELW delivers stunning image clarity and detail with its impressive 8 MP resolution. Whether it's monitoring large outdoor areas or zooming in for close-up views, this camera guarantees exceptional image quality that leaves no detail unnoticed.
What sets the DS-2DF8C842IXG-ELW apart is its DarkFighter technology, which enables outstanding low-light performance. Even in challenging lighting conditions, this camera excels at capturing clear and detailed images, ensuring that no activity goes unnoticed in the dark. With its powerful 42x optical zoom and 16x digital zoom capabilities, it allows users to closely monitor expansive areas without compromising image quality.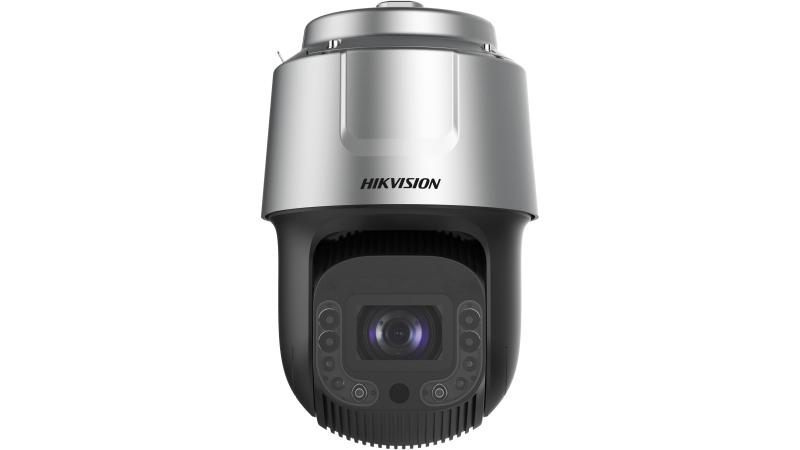 1/1.2" progressive scan CMOS
High quality imaging with 8 MP resolution
Excellent low-light performance with DarkFighter technology
42× optical zoom and 16× digital zoom provide close up views over expansive areas
Expansive night view with up to 500 m IR distance
Water and dust resistant (IP67) and vandal resistant (IK10) excluding glass window
Supports face capture to detect, capture, grade, and select faces in motion
Supports road traffic to detect vehicles
Smart Pan-Tilt Correction
The DS-2DF8C842IXG-ELW takes night vision to the next level with an impressive infrared (IR) distance of up to 500 meters. Whether it's monitoring large outdoor spaces, parking lots, or perimeters, this camera ensures that you have a clear view even in complete darkness.
Durability is another standout feature of the DS-2DF8C842IXG-ELW PTZ Cameras. It is water and dust resistant with an IP67 rating, making it suitable for outdoor installation in various weather conditions. Additionally, its vandal-resistant construction (IK10) ensures reliable performance and protects against tampering, enhancing the overall security of the camera.
With its advanced intelligence features, the DS-2DF8C842IXG-ELW goes beyond basic surveillance. It supports face capture, enabling the detection, capture, grading, and selection of faces in motion. This capability is particularly valuable in applications where facial recognition is essential for enhanced security. Furthermore, the camera supports road traffic detection, allowing for the efficient monitoring of vehicles in different scenarios.
One of the standout features of the DS-2DF8C842IXG-ELW is the Smart Pan-Tilt Correction. This feature automatically corrects the camera's pan and tilt position when it deviates from the desired angle, ensuring that the camera maintains its focus on the intended target, even in challenging environmental conditions.
HIKD is the trusted sales channel for HIKVISION products, including the DS-2DF8C842IXG-ELW. As a global leader in video surveillance solutions, HIKD offers a wide range of high-quality products and provides exceptional service to security professionals, installers, and end-users. With HIKD, you can rely on their expertise, competitive pricing, and dedicated support to meet your surveillance needs.
Discover the power of the HIKVISION DS-2DF8C842IXG-ELW and take your surveillance to new heights. Visit HIKD at https://www.hikdistribution.com to explore their extensive product range and experience the unparalleled performance of HIKVISION cameras.
About Author